Give your wedding, restaurant, event or function that extra special touch with live music from an accomplished and versatile pianist and singer - it could make ALL the difference!

Ceremony, Drinks reception, wedding breakfast
and live evening vocal entertainment

Available for corporate events, functions,
restaurants, bars, pubs & private parties

35 years piano playing experience

Very extensive and diverse repertoire of
instrumentals and songs

Superb Roland RD-700NX stage piano provided if required

Live vocal evening entertainment
(accompanied by stage piano and/or acoustic guitar)

Requests encouraged

Public liability insurance (MU) and PAT certified

Based in Hull, East Yorkshire, and prepared to travel

The perfect touch
If you are looking for that extra 'something' for your wedding ceremony or reception, corporate function, restaurant or piano bar, or even a private party in your own home, there's nothing quite like the sound and atmosphere that only a live pianist can create. As a classically trained pianist with over 36 years experience, Antoine specialises in providing this service to the highest standards of professionalism and reliability.
Covering Yorkshire, Lincolnshire, Lancashire, Derbyshire, Durham, Northumberland and beyond, Antoine has played professionally for many years at wedding ceremonies and breakfasts, restaurants, pubs, parties and private houses, and is confident that you will love the music he can perform, as will your guests or customers. Whether you require an hour, 3 hours, or even longer, Antoine's extensive repertoire will keep the music flowing constantly and fluidly, morphing smoothly from one style to another. Genres such as classical, jazz, blues, ballads, gospel, popular, shows, and contemporary, will all be covered.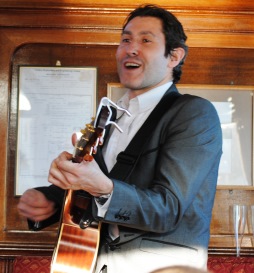 Also an experienced and lively singer, Antoine sings almost 200 songs from many different genres and eras to suit a broad spectrum of audiences, events and venues. Vocal performances are always LIVE and without backing tracks, self-accompanied either on piano or acoustic guitar to suit the environment and type of song.
To learn more about Antoine's background, please click here.
The music player requires the Adobe Flash player.
To download and install Flash (free) please click here.
Also,
please check the information bar at the top.
(it might be requesting you to allow blocked content.)

Performance samples

If you enjoy listening to these samples, you can purchase a high quality CD "Antoine - At the piano" which includes many of these plus several others at £10. For an additional £5 you can have a personalised copy with a message of your choosing ('eg. Happy Birthday Mum 2011') printed onto the back inlay and the CD itself. It makes a great and unique gift which they will love! To order, just use the booking form.